Re-side your home with beautiful, durable siding in Minneapolis, Saint Paul, Eden Prairie
The right siding can make all the difference. When installed properly, siding can protect your home from weather, lower your energy bills and improve your home's curb appeal. Depending on what's most important to you, whether it's style, color, durability, upkeep or all of the above, Lakewoods Remodeling can help you select the best siding option for your home. With professional installation, we can deliver exceptional appearance and performance. We install a variety of siding styles from the nation's leading manufacturers.
To request a free siding estimate, call us at (952) 888-5550 or click the button below. We are your trusted siding contractor in Minneapolis, Saint Paul, Eden Prairie and nearby.
Value without compromise
Vinyl siding provides the look of wood without the costly maintenance. With vinyl, you won't need to spend your time scraping, staining or painting.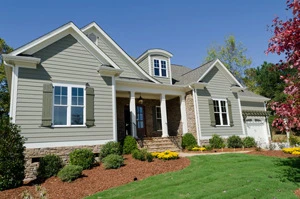 Choose the right siding for your home
Your home's siding is constantly exposed to Mother Nature. That's why it's important to choose a siding product that's able to withstand the elements and look great for years. We offer siding products for every home and budget. Below are the siding materials we typically install.
Vinyl siding
The most commonly-used siding material, vinyl is durable, never needs painting and won't be damaged by rotting.
Fiber cement siding
Fiber cement siding has a natural wood texture and is resistant to rotting, warping, cracking and pests. Many manufacturers offer a 25 or 50-year warranty on fiber cement siding products.
Wood siding
Real wood siding has a timeless look that many manufacturers try to mimic using other materials. While wood siding is environmentally friendly and easy to replace, it requires much more maintenance than other siding materials such as vinyl.
Steel siding
Most steel siding products are made of durable galvanized steel with a PVC topcoat. Manufactured to withstand severe weather conditions, steel siding offers exceptional strength and lasting beauty.
Request a free quote for quality siding installation
If you are planning on selling your home or your siding is worn or damaged, we can help with all your siding replacement needs. There are several siding options and all have their advantages and vary in price. The roofing and siding contractors at Lakewoods Remodeling will work with you to figure out the best solution for your home.
Contact us today to request your free estimate for your siding project in the Twin Cities.